Simplify Skills Bootcamp enrolment for a streamlined learner experience
Reduce administration, improve efficiency
Why Bud?
Bud's workflows streamline the processes required to capture evidence at enrolment for your Skills Bootcamp course. Driving an improved learner experience and reducing drop-off, so that your team can focus on delivering high-quality training programmes for learners.
Improve learner enrolment, reduce drop-offs with Bud
Find out more today
Request a demo to see how Bud can support your training business.
Bud's dashboards and reports
With over 70 BI reports available in Bud, you'll have easy access to all your training data from every funding stream. Bud's dashboards automatically update every two hours and report on hundreds of data points from all your learners. All the data you need is at your fingertips - from monthly starts to learner engagement rates. Have a look at some of our reports and dashboards below.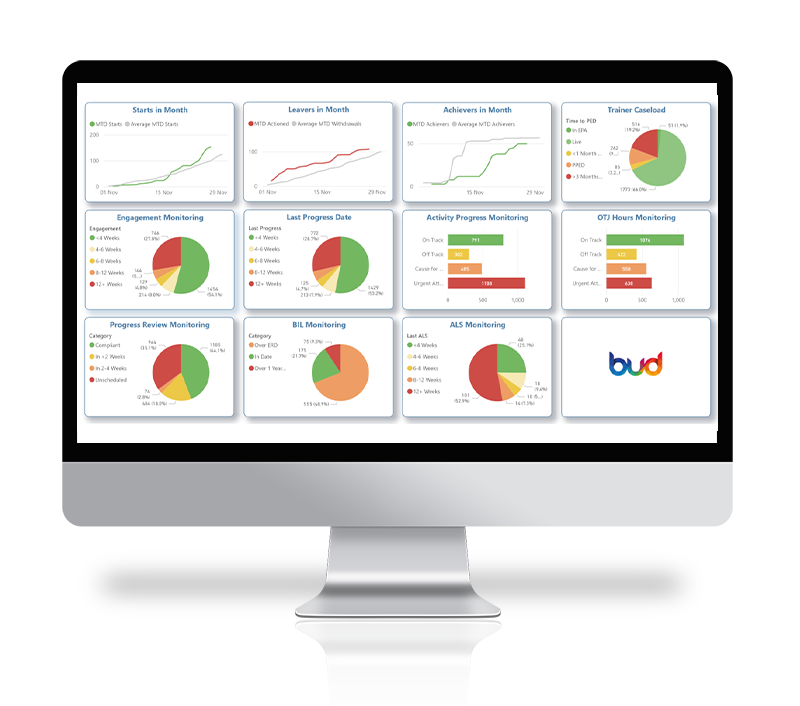 Operations dashboard
Bud's operations dashboard provides transformative data, giving a complete overview of your business health. Discover valuable insights into your learner progress, achievers, leavers, breaks in learning, caseload management, and more.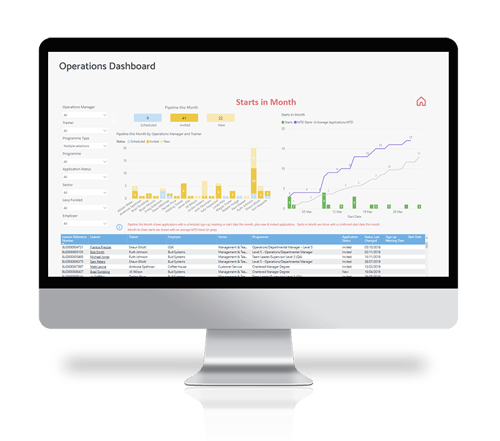 Operations Dashboard
Starts in Month
Get an up-to-date overview of pipeline by starts in month, with the ability to easily see the status of Scheduled, Invited, and New. Filter by Trainer, Ops Manager, Programme Type, and more to tailor your view and gain valuable insights.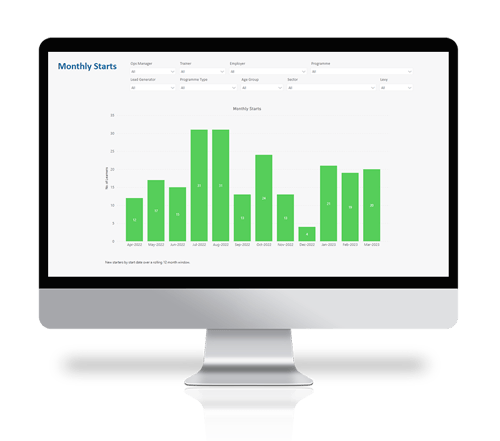 Standard Reports
Monthly Starts
Gain a clear overview of monthly starts, with the flexibility to customise the report based on various filters, enabling you to analyse the data by Trainer, Employer, Ops Manager, Age Group, Sector, and more.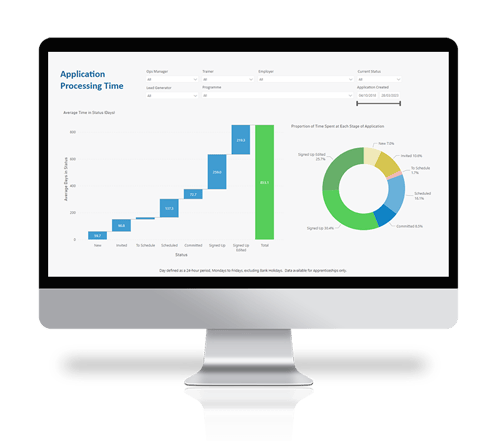 Standard Reports
Application Processing Time
Speed up learner onboarding with a clear view of your learner pipeline and the time it takes for applicants to progress through each stage, enabling you to discover bottlenecks and identify areas for improvement.
See Bud's 70+ reports
Request a demo to see Bud's full suite of embedded reports.