Streamline apprenticeship delivery for exceptional outcomes
Reduce administration, improve efficiency
Why Bud?
Originally built for the end-to-end delivery of apprenticeships, Bud's workflows streamline the processes required to capture evidence from enrolment to EPA. Driving compliance, reducing administrative tasks, freeing up valuable time for your team to deliver consistently high-quality training programmes.
From enrolment to EPA – Bud's got it covered
Find out more today
Request a demo to see what Bud can do for your training business.
Bud's dashboards and reports
Easily access all your training data with Bud's reporting suite. All Bud's dashboards and reports can be filtered by Programme Type, e.g., Apprenticeships, AEB, Bootcamps, to give you a clear view of business health by funding stream. Powered by its data warehouse and refreshed every two hours, Bud's dashboards and reports draw on hundreds of data points from each of your learners. With more than 70 BI reports, all the data you need is at your fingertips. Scroll down to see a small selection of our reports and dashboards.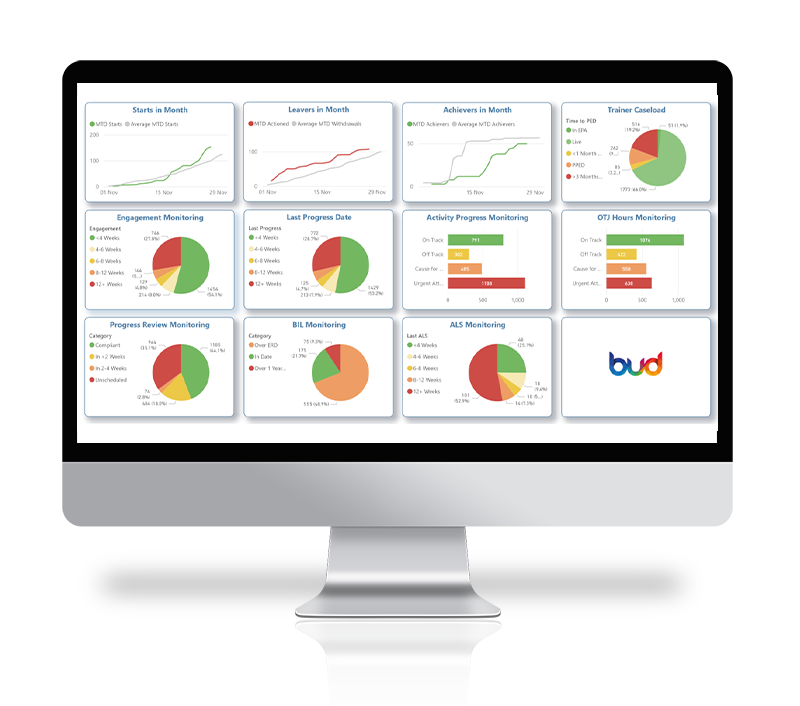 Operations dashboard
Transformative data at your fingertips for insight led decision making, that fuels a healthier business. All your operations key metrics easily viewed in a single dashboard built from live data. Simply drill into each tile for further detail on each report.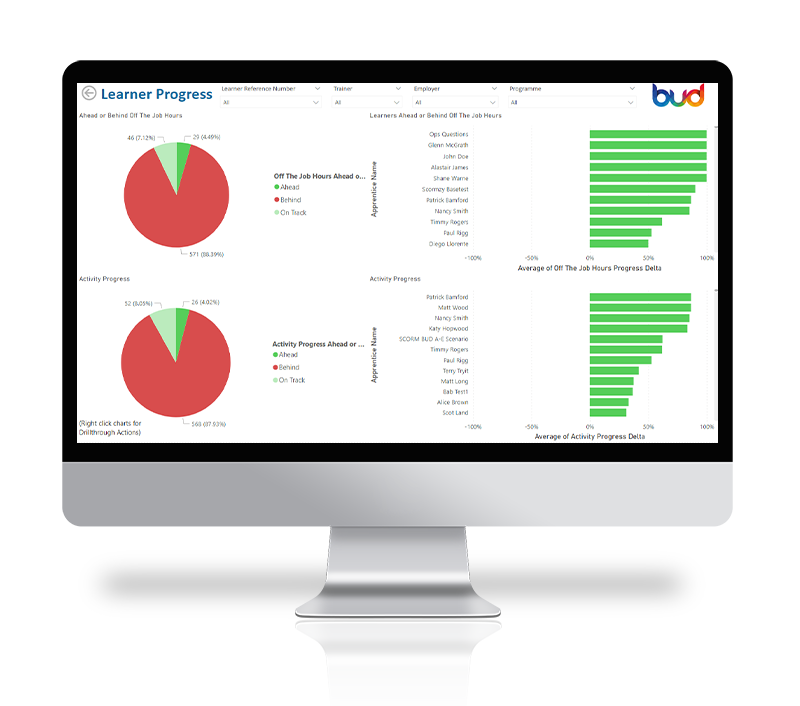 Standard Report
Learner Progress
See the progress of all your learners in one dashboard. Gain an instant overview of learners who are ahead or behind their Off-The-Job Hours, and their progress through activities.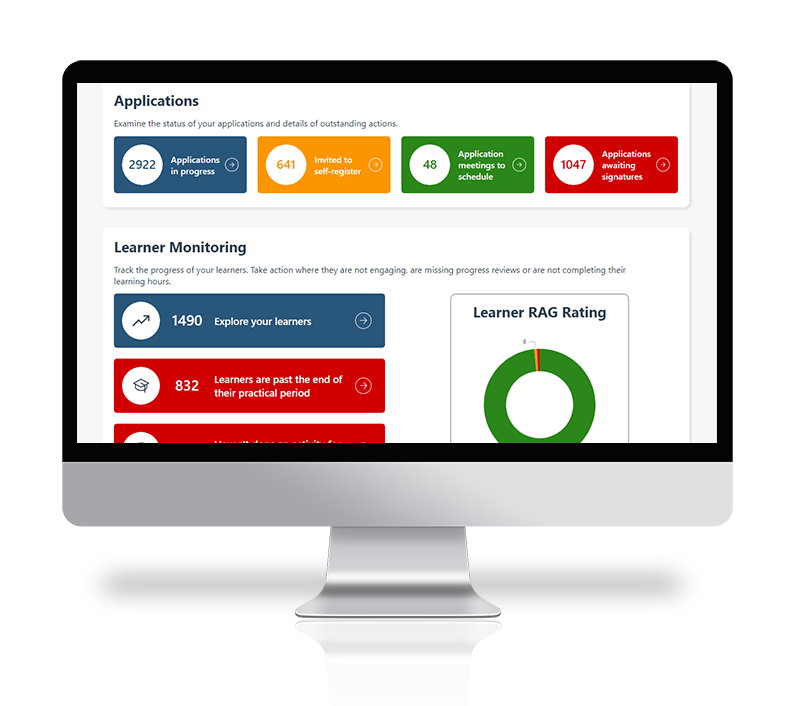 Employer Reports
Employer dashboard
Easy access to all the reporting employers need, so that they can be sure they are gaining value from their training programmes. Through providing transparency of key metrics, employer reports help providers to forge stronger relationships with customers and to identify areas where actions can be taken to improve learner outcomes.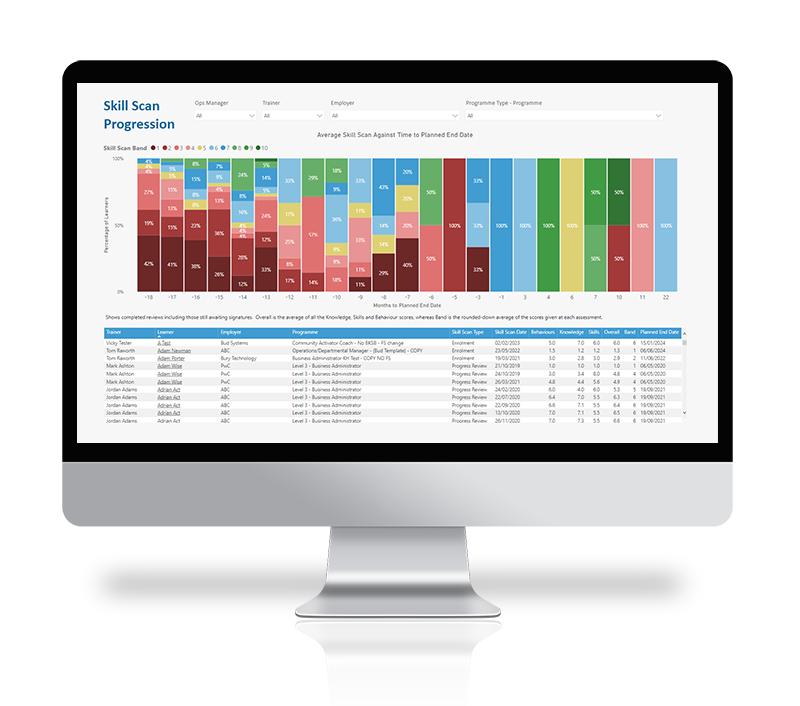 Standard Reports
Skill Scan Progression
See the exact percentage of your learners in each skill scan band against time to planned end date, giving you a clear view of learner progress and an indicator of success.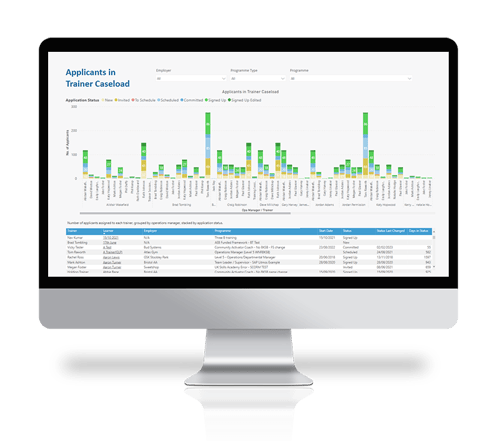 Standard Reports
Applicants in Trainer Caseload
Easily see the applicants and learners in a trainer's caseload and their status. Are applicants invited, committed, signed up? Are learners in progress, on a break, withdrawn? This report can also display Learners in Trainer Caseload.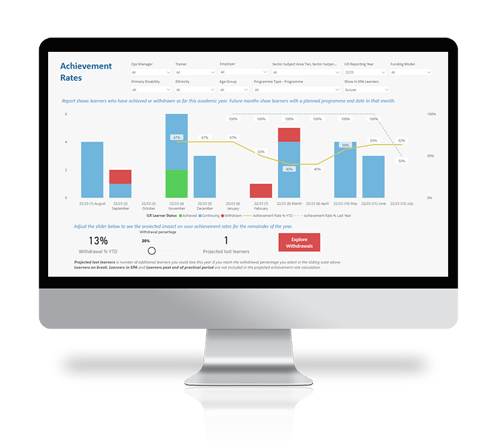 Standard Reports
Achievement Rates
With multiple filter options, including by: Ops Manager, Trainer, Employer, Age Group, Sector and more, you can easily see the number of learners that have achieved or withdrawn year to date. This report is also able to predict achievement rates for the remainder of the year based on past performance.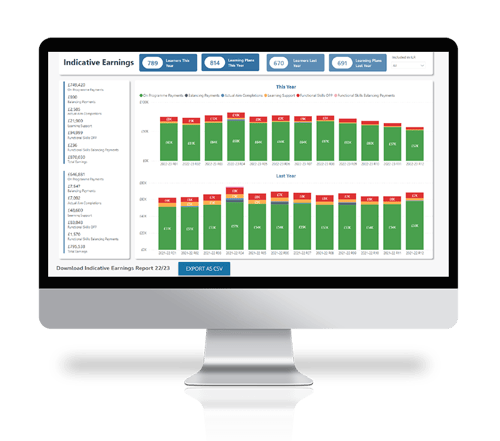 Finance Report
Gain an overview of your business' financial health based on the number of learners and learning plans you are delivering in year and compare to your previous years' performance. With one click, export to CSV.
70+ BI Reports in Bud!
We have shown a small selection of our outstanding reports, request a demo to see the full suite.