How Skills4Pharmacy have seen immediate ROI since adopting Bud
Last updated September 25, 2022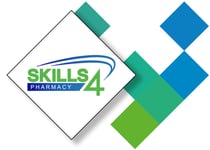 Skills4Pharmacy is a Pharmacy Apprenticeship training provider dedicated to initiating and furthering the careers of Pharmacy Technicians and Pharmacy Support Workers. They take pride in delivering high-quality training programmes.
The challenge
Skills4Pharmacy are driven by a genuine desire to provide life-changing opportunities for their learners – who they place firmly at the centre of their business. This means that ensuring the best possible learner experience is of paramount importance, but the multiple systems they were using to manage and deliver training were not enabling Skills4Pharmacy to deliver this ambition.
In addition, their disparate systems were allowing opportunity for discrepancies within the data and reporting, leading to difficulties with forecasting and pipeline management.
They therefore wanted to find a single, joined-up platform that managed training delivery from enrolment to EPA whilst providing the best UX/UI for their learners.
The solution
Bud has provided many benefits to Skills4Pharmacy across the key areas of:
Learning delivery
Management
Compliance
Learners have told us that Bud is much easier to use than our old systems. They really like being able to see what's coming next on their programme and to view what they've already done. This visibility of progress reinforces a sense of achievement which must help to maintain their engagement.
Jamie Crinigan, Operations Director at Skills4Pharmacy
Learning delivery
Adopting Bud has meant that Skills4Pharmacy are able to deliver on their key objective – providing the best experience for learners and employers.
Bud gives learners control by enabling them to access their learning plan at any time on any device, meaning learners can manage their own progress. They're not left waiting for the next face-to-face visit from their trainer. With Bud, learners and trainers can communicate within the platform, submit their work and gain feedback, then launch new activities at a pace to suit them. They can even launch SCORM activities straight from the platform, with the results automatically recorded in the system. Bud helps training providers and learners strike the perfect balance between face to face and digital delivery, whilst automatically recording evidence of every interaction.
Read more: Balancing face-to-face and remote training
Jamie Crinigan, Operations Director at Skills4Pharmacy said "Learners have told us that Bud is much easier to use than our old systems. They really like being able to see what's coming next on their programme and to view what they've already done. This visibility of progress reinforces a sense of achievement which must help to maintain their engagement."
What's more, via Bud's dashboards and simple RAG rating, trainers and managers can easily see learners who are at risk and may require intervention and identify those who would benefit from further stretch and challenge.
The line of sight that Bud gives us means that we can easily identify learners who may be racing through their assignments, we can give them stretch and challenge earlier than we could have with our old systems. This is another reason why I believe Bud helps us to put the learner first.
Jamie Crinigan, Operations Director at Skills4Pharmacy
Managing
Having moved from multiple systems to Bud, Skills4Pharmacy were quick to realise the benefits of a single joined-up platform for end-to-end training delivery.
Jamie said "Previously we were using multiple systems to manage our learners, this was causing inconsistencies in the data and in the way our team operated. The reporting was poor, meaning we couldn't be confident in our analysis and decision making. We realised that we needed a single joined-up platform that would drive operational consistency, compliance and accurate data, whilst providing a great learner experience."
Bud's workflows are built to drive compliance. At enrolment learners can input all compliant evidence remotely, with digital signatures and documents of proof of ID uploaded and safely stored in the platform. Bud captures this crucial evidence once, significantly reducing opportunity for data error.
From enrolment to EPA, throughout the learning journey, Bud captures all required evidence, meaning there is minimal chance of error. Bud's dashboards give visibility of data from a single source of truth, at any time on any device, providing a true picture of business health. RAG rating helps trainers and managers quickly identify learners who may be a cause for concern, for instance because they're not progressing. This means timely interventions can be initiated to put the learner back on track.
Read more: Why flexible platforms allow mistakes to creep in
We found it hard to track enrolments and couldn't tell what stage learners were at easily using our old systems. Importantly, learners also get logins and access to the system before their start date which helps to build engagement. Bud has given us visibility of the whole enrolment process so that we can now accurately forecast, and we can see if learners get stuck at any stage and offer help to speed up the process. With Bud, learners have access to the platform before they've started on programme which is fantastic.
Jamie Crinigan, Operations Director at Skills4Pharmacy
Compliance
Tracking Off-The-Job-Hours is an area of delivery and evidence that is crucial to a training provider's success, because it is key to ensuring that the apprentice is receiving quality training, knowledge, skills and behaviours during work time. It's also inspected by Ofsted to ensure that it is happening.
Employers, learners and trainers can easily see Off-The-Job-Hours in real-time on Bud. This visibility means that all parties can take responsibility for their part in this vital element of apprenticeship training.
Jamie said "In the past trainers would have to record OTJ, they would often have to chase for evidence retrospectively. Bud ensures that OTJ is defined, collated and tracked – providing full visibility to the learner, trainer and employer. All parties know that the OTJ is being delivered, is on track and the data is there to evidence when needed. I feel so much more confident in our compliance, it's 10 times better!"
With workflows designed to drive compliance from enrolment to EPA, Bud reduces business risk and raises confidence amongst business leaders. For Skills4Pharmacy, Bud has given the business the ability to confidently claim ALS funding, a revenue stream they had not been able to tap into before.
We've seen immediate ROI with Bud. In the past we couldn't claim ALS because we weren't comfortable with the recording mechanisms of our old systems. Bud's functionality has given us the confidence to do it. This coupled with the fact that we have replaced multiple systems with one means significant cost savings.
Jamie Crinigan, Operations Director at Skills4Pharmacy
Cultural fit
Digitally transforming delivery by switching to a new platform is a long-term investment, which is why it's crucial that there is a strong cultural fit between training provider and their chosen platform.
The team at Bud, who drive implementation, provide account management and support, will help drive uptake and usage of the platform, their ambition is to enable customers to be successful.
Jamie said "Bud's implementation team have been brilliant, extremely responsive, and provided great training sessions. They've helped to get buy-in from my team, and to hone their focus onto what's important at every stage. They're always keen to tell us what's going on, they speak the truth and are honest and open."
Read more: Choosing the perfect platform
Find out more about Bud
As pioneers of technology, Bud Systems can support with many aspects of training delivery.
For example:
Create a consistent, easy-to-use digital learning environment that learners, employers and trainers will love.
Capture real-time business intelligence giving training providers a complete overview of every aspect of an organisation's performance.
Quality check programme delivery, identifying areas for improvement in real time.
Automatically collate evidence needed to demonstrate learner outcomes and hit compliance targets to release funding.
Get in touch with the team to learn more about how we can help you maximise your training performance or book a demo now.
Related resources

Last updated July 27, 2021
UK Skills Academy (UKSA) are a family of Cyber and FE experts comprising ex-police, ex-military, trainers, coaches, experienced and knowledg...

Last updated December 21, 2022
Richmond Training delivers apprenticeships, qualifications and training within the healthcare and business sectors. The company wants to ins...