Digital transformation with Bud: Support every step of the way
Last updated July 7, 2022
Implementing new digital processes can be challenging alongside your other day-to-day responsibilities. At Bud, we tailor our support to your individual needs, with our Core and Enhanced services.
If digital transformation is still a new concept to you, get up to speed here:
In this article, we look at how to kick off the digital transformation process in your organisation and the support Bud can offer your team.
Moving away from inefficient ways of working
Many training providers are still relying on out-of-date models of working because they're familiar and safe. For example:
Face-to-face visits with new learners as part of the enrolment process
Manually collecting and checking documents for enrolment, such as proof of identity, proof of residency and proof of qualifications
Using a combination of paper-based reporting and online systems, which don't 'talk' to each other
Using archaic tools for individualised learner record (ILR) returns
Manually gathering information needed for Ofsted inspections
Manually collating information for ESFA audit
At Bud, we've helped training providers of all shapes and sizes through the digital transformation process. We understand how hard it can be to let go of old systems and make a change to a new way of working.
Our in-house experts have:
Worked within training providers and understand your challenges first hand
Helped dozens of providers through this process before
Lots of experience supporting people at all levels of an organisation. You can expect straightforward, transparent support – we avoid tech jargon and always speak in plain English
Embracing change in your organisation
It's natural to be nervous about making the switch to new digital solutions. The first step towards embracing change is appreciating the benefits it can offer so you can start envisaging how the rollout will look.
Take enrolment as an example. With Bud's platform, learners can manage enrolment themselves on their smartphone at home, where they've got all the information to hand.
This avoids multiple face-to-face visits, which can be time consuming for the trainer and expensive for the organisation. And, because it's all digitally captured and stored, there's no chance of documents getting lost or forgotten at the bottom of a pile of papers.
Submitting ILRs is another time-consuming part of training provision, and organisations often cling on to their old ways of working because it's what they know. This might involve a combination of taking data from a paper-based platform and submitting it via another system, like PICS. It's hardly a smooth operation.
But Bud has been designed to provide a joined-up solution. Learners are required to submit their progress as they go, so all the evidence you need is accurately captured in real time along the learning journey and automatically submitted.
How Bud can support your digital transformation process
Training providers are diverse in terms of their size, culture and digital capabilities, so the starting point for change can vary significantly between different organisations.
1. Outline your goals
It's important to us that we fully understand your needs, so we begin with an initial meeting to scope out your current ways of working.
This helps us establish your starting point – are you switching from another end-to-end platform or using a mix of paper-based and digital tools, for example?
At the outset, we'll establish your goals and success criteria:
What does good look like to you?
What are your goals?
How do you measure them?
2. Choose the right level of support
When it comes to the support you need, we know from years of experience of working with training providers that a one-size-fits-all approach is not enough.
That's why Bud now has two levels of implementation: Core and Enhanced. It means we can give you the exact level of support you need to make your digital transformation a success.
Core: Everything you need to get set up with the basics of Bud
Our Core service is great for providers who need a basic level of support getting started.
You might already have an in-house tech expert or a group of staff ready to embrace the change. Core gives you everything you need to get Bud up and running as quickly as possible.
Enhanced: An extra level of expert support to guide you through the digital transformation process
Our Enhanced service is designed for providers looking for an extra level of support and guidance.
The Enhanced service walks you through each step of implementation, ensuring there's always an expert on hand to answer any questions you have. This service includes weekly progress meetings, as well as training sessions to help your team get familiar with the new tools.
We'll also offer support calls after the rollout, so you can be confident you'll get the most out of Bud.
Craig is our ADC at Bud. He has a background in training delivery and his knowledge has been invaluable. Craig completely understands our pains from an ITP operations perspective, and he has supported us in using and understanding the platform.
IAN JACKSON, HEAD OF APPRENTICESHIPS AT MTD TRAINING
Find out more about how Bud can help you
Are you ready to make changes and see the benefits digital transformation can bring to your organisation?
Book a call with our friendly team today to find out more about the different levels of support we can offer you, and how these can be tailored to your individual needs.
Related resources

Last updated December 7, 2021
The changes to apprenticeship rules and funding brought in from 1st August 2021 might, at first glance, seem a little overwhelming. That's w...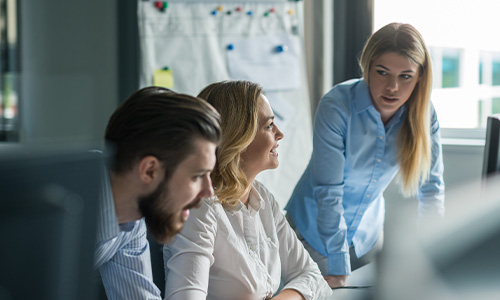 Last updated July 7, 2023
The apprenticeship accountability framework was introduced to create a more rounded assessment of apprenticeship providers.