Off-the-job training: How to overcome common challenges and drive compliance
Last updated September 18, 2023
Off-the-job training has been a cornerstone of apprenticeships since it was first introduced in 2017, but it comes with some challenges for learners, employers and training providers.
Off-the-job (OTJ) training is defined as training which delivers new skills, is relevant to the apprenticeship and which is delivered during the learner's normal working hours. This type of training excludes English and maths, and should fall outside of the learner's day-to-day duties and job role.
OTJ training aims to give learners the knowledge, skills and behaviours needed to achieve their apprenticeship. It's a statutory requirement for apprenticeships in the UK, and a key area of focus during ESFA audits.
Why is everyone talking about off-the-job training?
Off-the-job training has been a hot topic in the last year, after the ESFA made a long-awaited change to requirements.
Previously, apprentices were required to spend 20% of their working time on OTJ training. This drew concerns that it disadvantaged some learners, since a learner working 40 hours per week would automatically face a higher minimum threshold for OTJ hours than a learner working 30 hours.
The ESFA confirmed in its funding rules last year that learners working full-time now only need to complete an average of six hours of OTJ training for each week on programme. However, bear in mind that this is the minimum requirement – the latest apprenticeship funding rules emphasise that OTJ hours should be linked to the initial assessment of the learner. As a result, it may end up being more than six hours per week.
The 20% rule for OTJ training remains for part-time learners.
What Ofsted will look for in OTJ training
As we head through 2023 and into 2024, you can expect Ofsted inspectors to check that OTJ hours have been agreed in advance of delivery.
Most importantly, Ofsted will want to see that planned OTJ training includes meaningful activities for each learner and isn't just a box-ticking exercise. Quality of delivery is a top priority for Ofsted, and the government has issued the following advice:
"Ofsted inspect the quality of the off-the-job training delivery for apprenticeship provision at all levels. Therefore, as well as the evidence required for funding purposes, we also advise that a provider keeps additional information relating to quality, for inspection purposes."
As part of the inspection process, Ofsted may also want to observe the delivery of OTJ training, in order to "make judgements on the quality and its value to the apprentice's learning experience".
You can read more about what can and can't be included in OTJ training in the Department for Education's apprenticeship funding rules pdf.
Read more: What are Ofsted inspectors looking for?
Challenges with off-the-job training – and how to solve them
Off-the-job training has long been rife with challenges. Here are the two most common challenges we hear about, and ways you can go about solving them.
Challenge one: Employers not releasing apprentices for OTJ training
One of the biggest challenges is ensuring employers are giving apprentices time in their working week to complete their mandatory OTJ training.
It's no surprise that some employers are reluctant to do so, given the productivity loss that comes with releasing an employee to complete training each week. Many businesses in sectors like hospitality and healthcare are already struggling with increased staff turnover rates and skills shortages, so off-the-job training may feel like a burden.
This can result in apprentices having to complete OTJ assignments at home or outside of working hours. While OTJ training may occasionally take place outside of working hours if absolutely necessary, the learner must be compensated for their time (e.g. through time off in lieu or being paid for these hours).
If learners frequently have to study in their own time, it can negatively affect both their progress through the programme and their personal lives. For providers, regular failure to ensure learners are receiving OTJ training within working hours can result in a poor Ofsted rating.
The solution: Work with employers and plan training during downtime
There isn't an easy solution, but training providers need to work with employers to make sure they understand the mandatory requirements. Planning OTJ hours well in advance can help to make sure that they fall at times that work best for the employer's organisation.
Note that the minimum requirement is for calculation purposes only. It can be accrued over the course of an apprenticeship, with some weeks having more training and some weeks having less.
When having these conversations, remember that both training providers and employers have a shared goal: to help the learner successfully complete their apprenticeship and become a skilled and fully-qualified team member. It's in both your best interests to do what you can to support the process.
Challenge two: Calculating and recording OTJ hours
The other main challenge is in calculating and recording OTJ hours. There are lots of common problems that training providers can come up against, such as:
Failure to meet the minimum number of hours required
Failure to agree on (and evidence) planned OTJ training activity at the start of the programme, in advance of delivery
Failure to correctly deduct statutory leave as part of the OTJ requirement (the apprentice's own annual leave entitlement must not be used in the calculation)
Putting ineligible activities down as OTJ training, such as initial assessment and onboarding activities, progress reviews and exams. (Read a full list here.)
The solution: Use Bud's enhanced off-the-job hours tracking
We're continually developing Bud to support you with driving compliance. Our OTJ tracking allows you to monitor activity in real time, view trends and reach out to any employers who aren't allocating enough time for training.
Use Bud reports to quickly see a learner's planned, actual and forecasted OTJ hours on their Learning Plan
Record individual occurrences of OTJ hours, as well as uploading in bulk
Both learners and trainers can record hours and add comments to substantiate OTJ hours and how they're supporting their knowledge, skills and behaviours. Learners can record OTJ hours themselves from any device, for the trainer to review and confirm it meets the requirements for OTJ
Watch now: Enhanced OTJH tracking
In the past, trainers would have to record OTJ and would often have to chase for evidence retrospectively. Bud ensures that OTJ is defined, collated and tracked – providing full visibility to the learner, trainer and employer. All parties know that the OTJ is being delivered, is on track and the data is there to evidence when needed. I feel so much more confident in our compliance, it's 10 times better!
Jamie Crinigan, Operations Director at Skills4Pharmacy
Three tips for complying with off-the-job training requirements
1. Plan over the minimum number of hours
Full-time employees need to complete a minimum of six hours of OTJ training a week. However, sticking to this minimum comes with a certain amount of risk.
If you've made a mistake with a calculation, have an issue with evidence or auditors write off an activity as ineligible, it could take you below the minimum requirement. This can lead to funding clawback because it's technically no longer an eligible apprenticeship.
It's better to have a robust delivery plan to set out the intent of OTJ hours that takes you over the minimum volume, so you have flexibility should one of the above happen.
2. Discuss OTJ hours in progress reviews
Progress reviews should involve the training provider, employer and apprentice, and must be carried out at least every 12 weeks.
Discussing OTJ training during these reviews will help to check that it is having a positive impact. Remember that it isn't just about hitting target OTJ hours – Ofsted will want to check that training is high quality and meaningful for each learner.
If the learner's OTJ hours aren't progressing as expected, these progress reviews will give you a chance to discuss any issues and make changes to resolve them. It may be that the learner isn't being given enough time to complete their OTJ hours, or that they need Additional Learning Support (ALS).
3. Check your training software reflects the latest requirements
The apprenticeship funding rules change each year, and there have been some significant alterations to off-the-job training requirements recently.
It's vital to make sure that your training platform is up to date and supports you as you adjust. It should be easy to calculate OTJ hours, check the eligibility of activities and record all the evidence you need for future ESFA audits and Ofsted inspections.
Bud can help with all of this and more. To see how Bud works for yourself, book a demo with a member of our friendly team.
Related resources

Last updated February 12, 2021
"A pass with no non-conformities". That is the phrase every security manager wishes to hear at the end of their ISO 27001 implementation jou...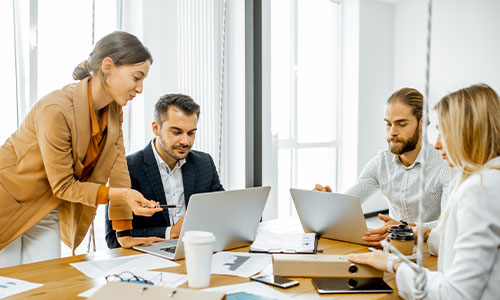 Last updated June 26, 2023
Delivering consistently high-quality training is key to a successful apprenticeship programme, but it takes time, effort – and money. If you...